Exhibiting Info
Application Form
Exhibition Categories
The exhibition covering all fields of new sensing technologies.
This show regroups products and applications for sensors, controls, systems, devices, technologies and information.
●

Light and electromagnetic wave

Photosensors, infrared sensors, radiation sensors, ultraviolet sensors, laser sensors, photoelectric sensors, fiber-optic sensors, illuminance sensors, photodiodes, etc.

●

Mechanical and physical quantity

Pressure sensors, accelerometers, angular rate sensors, rotation sensors, displacement sensors, impact sensors, strain sensors, motion sensors, torque sensors, etc.

●

Temperature, humidity, and fluid

Temperature sensors, humidity sensors, heat flux sensors, flow sensors, level sensors, density sensors, etc.

●

Magnetic and current

Magnetic sensors, current sensors, etc.

●

Chemistry and biotechnology

Gas sensors, ion sensors, odor sensors, taste sensors, etc.

●

Biometric

Brain wave sensors, pulse wave sensors, etc.

●

Image

Image sensing technologies, smart sensors, remote sensing technologies, etc.

●

Environmental

Particle sensors, pollen sensors, etc.

●

Sound and ultrasound

●

Touch

●

RFID

●

Bar code readers / OCR
●

Sensor fusion

●

Micromachine, MEMS, NEMS

●

Actuators

●

Sensor network systems and technologies

●

Sensor components, parts, and materials

●

Measurement, control, testing, and inspection devices, equipment, and systems

●

Electronic equipment
●

Communication devices and networks

RFID, NFC, Bluetooth Beacon, Zigbee, Wi-SUN, LPWA, Wi-Fi, 5G, LTE, etc.

●

Software

AI, data analysis, data processing algorithm development, control, image processing, etc.
Visitors Categories
・ Developers and engineers looking for advanced sensing technologies
・ Specialists involved in design, manufacture, quality control and inspection, procurement
・ Actors from various industries - retail, trade, service, fisheries, forest and agriculture, public infrastructure (transport, communication, energy, etc.) - medical institutions or governmental agencies considering the use of innovative sensors.
Type A
Booth specifications
One booth = 9m²(width 3m x depth 3m x height 2.7m),
rear and side walls only (except for corner booth)
*Decorations, Name Box, Carpeting, etc. are not included.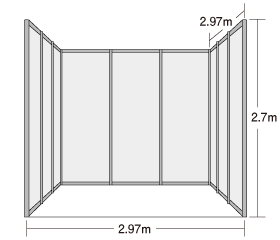 Exhibition fee
| | |
| --- | --- |
| One booth | 429,000 yen*including tax |
Layout of booths
You can select any floor pattern from those below according to the number of modular panels you wish to use.
1-3 booth unit(s)
Row Type only (Height: until 4m, except within a 1m border near the aisles)
Over 4 booth units
Block Type 4 booths or Island booth from 6 booths (Height: until 5m)
* An Island booth is surrounded by aisles on all sides.
For a Row Type, please contact the show office.

Type B
Up to two booths per company
Booth specifications
Booth size: 2.0m width × 2.0m depth × 2.7m height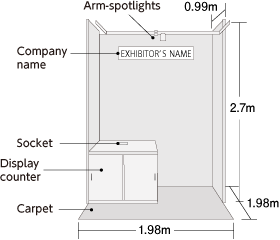 Exhibition Fee
| | |
| --- | --- |
| One booth | 253,000 yen*including tax |
Included in the exhibition fee: exhibition space, rear and 1m side walls, company nameplate, carpet, exhibition stand (W1.0 m × D1.0 m × H0.8 m), slide door unit (without key), spotlight (22W) × 1, electrical outlet x 2 (100V with ground), electricity and installation costs up to 1,500W
Web Banner
Highlight your presence beforehand
with a Link Banner on Sensor Expo Japan Official Website
| | |
| --- | --- |
| Dates: | From August 9 to September 15, 2023 |
| Banner size: | W200px×H40px GIF format (can be animated) |
| Publishing fee: | 55,000 yen (including tax) |
| Data reception deadline: | July 26, 2023 ※for final version data at the above size |
Deadline for Application
May 19 (Fri), 2023
Schedule until the exhibition
2023
May
19 (Fri)
Deadline for Application
(sending invoice after receiving the Application Form)
July
Sending Exhibitor Manual, Floorplan and other exhibiting material
September
11 (Mon)
09:00-18:00 Booth construction, Exhibitors Move-in
12 (Tue)
09:00-18:00 Exhibitors Move-in
13 (Wed)
10:00-17:00 Exhibition Period
14 (Thu)
10:00-17:00 Exhibition Period
15 (Fri)
10:00-17:00 Exhibition Period, Moving-out from 17:00